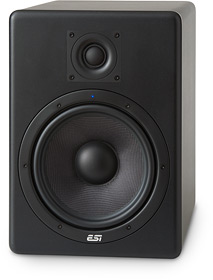 顶级高性能8寸参考级监听音箱
aKtiv08相对于他的前辈nEar系列,可以说拥有完全不同的声音。崭新额aKtiv 08采用顶级的凯夫拉尔防弹衣纤维低音单元,并且增加了低音扩展功能,相对于纸质和聚丙烯低音单元的众多同类产品,有了重大改进。不但低频响应饱满有力,中频也表现出惊7人的力度。德国高级工程师重新设计调整后,采用更高等级的丝质球顶高音单元用以消除共鸣效应,并且整合了全新的分频电路,简直就是为个人工作室以及专业录音而生,当然家庭个人用户也非常适合。总之,他的出众的动态表现和无可挑剔的声音细节,让您可以尽情徜徉在音乐之海。

Intended as sucessor for the popular nEar08 eXperience, the aktiv 08 studio near field reference monitor has been developed to offer the best 8" monitoring solution for the entry level.
With an extended low frequency response and a top quality kevlar 8" driver, our aktiv 08 delivers unparalleled punch in the low-mid frequency - a major improvement over the paper and polypropylene drivers used in many comparable products.Compared to the previous generation, the aktiv 08 is build with a new tuning by our engineers in Germany, a higher quality silk dome tweeter and it also integrates a completely new design of the crossover circuitry. This gives aktiv 08 the pole position in the area of professional level studio monitoring if you are on a budget and won't accept a compromise on quality and sound.
All this makes aktiv 08 the perfect alternative to our top selling uniK 08 reference monitor if you are on a budget.
Features

2-way powered speaker / active studio monitor speaker
8" kevlar curved cone (magnetic shielding type) as LF driver
1" silk dome tweeter as HF driver
output power 90W (HF 30W, LF 60W), 130W AC consumption power
input connections: XLR / TS1/4" combo connector, balanced / unbalanced input
input impedance: 23.3 kOhm balanced, 13.3 kOhm unbalanced
input sensitivity: 130mV@1Watt, 1V@60Watt
frequency response: 40Hz - 20kHz
crossover frequency: 2 kHz
SPL: 90dB +/- 3dB
operating voltage: AC100-240V 50/60Hz, with 115V / 230V AC selection switch
blue power LED on the front
dimensions: 358 mm(H) x 255 mm(W) x 322 mm(D)
weight: ca. 10.2kg (每对)

BACK
宣传资料可供参考,最终产品若有细微更改以销售实物为准